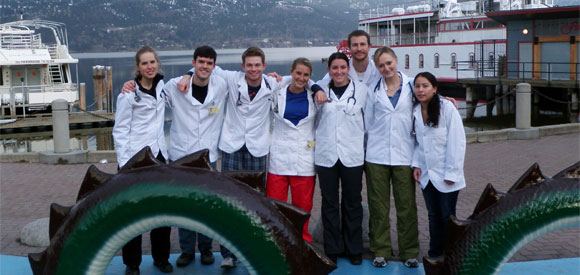 From February 28 to March 4, the Southern Medical Program held a Prototypical Week at UBC's Okanagan campus and the Clinical Academic Campus at Kelowna General Hospital (KGH). The Prototypical Week provided an important assessment of SMP's readiness to accept Year 1 UBC medical students in the fall of 2011. Additionally, it supports the ongoing quality assurance of UBC's distributed MD Undergraduate Program as a whole.
Eight Year 1 medical students (pictured above) from UBC's Vancouver Fraser Medical Program (VFMP) took part in the Prototypical Week and complete one full week of study. Students shared the same curriculum, course load, and clinical training as their colleagues in the VFMP, the Island Medical Program in Victoria, and the Northern Medical Program in Prince George.
Students studied at the UBC Okanagan campus throughout the week and participated  in clinical skills training at the Clinical Academic Campus and various Family Physicians offices in Kelowna and Vernon.
VFMP Students: Jennifer Cutting, Ben Trepanier, Gavin Docherty, Katherine Shoults, Amy Kluftinger, Alexander Ednie, Maria Kovalik, Kelsey Stearns.