UBC's newest doctors head across Canada to begin residency programs
As UBC celebrates the 10th anniversary of its distributed medical doctor undergraduate program, the Okanagan campus has some celebrating of its own to cheer about.
The first cohort of medical students, who received their training as the inaugural class of the Southern Medical Program (SMP), is graduating this spring. This cohort includes 30 students, from across the province; all who have been educated and trained in the B.C. Interior. They began their training in September 2011, and now, as part of the largest medical class in UBC's history, these new doctors are preparing to enter residency training in family medicine or various specialties for the next two to five years across Canada.
These SMP students did most of their academic work—lectures, labs and small-group workshops—at UBC Okanagan, and received their clinical training at various hospitals and clinics throughout the Interior, explains Dr. Allan Jones Regional Associate Dean, Interior.
"We are incredibly proud of what our inaugural class has achieved during their studies with us in the BC Interior, says Dr. Jones. "They have played an instrumental role in shaping the educational experience for future generations of doctors who will study and train with the Southern Medical Program."
Dr. Jones explains that thanks to UBC's SMP, the way doctors are trained in B.C. continues to evolve. The SMP is delivered in partnership with Interior Health, UBC Okanagan and more than 800 Interior-based health professionals who are involved in teaching medical students and residents in 30 different communities.
The expansion of residency training in B.C. includes a new family medicine training site, with four residents, in Trail and Kootenay Boundary region. Two other sites in the Interior—a family medicine site in Kamloops and an emergency medicine site in Kelowna—are welcoming their second round of trainees in July.
More than half of the SMP's graduates will pursue training in primary care—family medicine, internal medicine, or pediatrics. Here is a quick look at four young doctors, as they set out and embark on their residency programs.
---
Alex Bond, Southern Medical Program Graduate 2015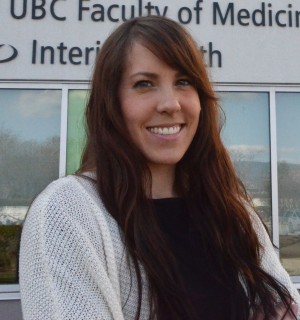 Alex Bond likes a good mystery. She likes to ask questions, investigate mysteries, and solve problems.
Heading into a career in internal medicine, starting her four-year residency at UBC Vancouver, the idea of helping people get better, solving what ails them, excites Bond.
"I really wanted to be at a large urban centre where I would be exposed to a breadth of learning opportunities and a diverse patient population," says Bond. "The prospect of getting involved with teaching as a resident is so exciting and there are ample opportunities at UBC."
Bond, who grew up in Surrey, B.C., completed her undergrad in neuroscience at Washington State University, where she attended on a rowing scholarship. Initially, she was looking at a career in neuroscience and considered staying at Washington for her PhD.
"I realized pretty quickly that I didn't like working with lab rats," she says, admitting she's a people person. "People are much more interesting; the time invested in getting to know my patients is so rewarding and I am grateful that patients and families have been willing to participate in medical education here in Kelowna."
She describes internal medicine as the inner workings of the patient; like the boiler room. Everything, each vital organ, has a job to do; and if one thing isn't working properly, it will affect the efficiency of everything else and the patient's general state of health.
"With internal medicine, you have to be methodical in combining medical knowledge and a thorough investigation to develop comprehensive assessments for every unique patient case," she explains. "There are a complexity of cases and problems and it's like solving a mystery. You need to solve what's going on, and it might be something wrong with the heart, lungs, gastrointestinal system, and kidneys. It's like the Sherlock Holmes of medicine."
Bond says her experience at UBC Okanagan and her training at the clinical campus at Kelowna General Hospital has inspired her to be the best she can be, while helping others lead healthy lives. She recognizes the support all medical students have received from the staff at KGH and UBC.
"I have had some truly inspiring preceptors along the way," she says. "The medical staff here is so keen to teach. I've often been called in to work on a case because my preceptors knew it would specifically interest me. Everyone here is so supportive. You're not just a number; you are a student and they want you, as an individual, to succeed."
Bond, who was class president for this cohort, plans to spend at least four years at UBC Vancouver's campus. Along the way, she's hoping to have a hand in training new residents; returning the favour she's received from supportive mentors at UBC Okanagan. And she has advice that she's happy to share.
"I would say to anybody entering medical school, make sure you find something you are truly passionate about," she says. "For all of its challenges, if it's something meaningful to you, if your heart's in it, you're going to enjoy what you do and the rewards will be well worth the time and effort."
---
Robyn Buna, Southern Medical Program Graduate 2015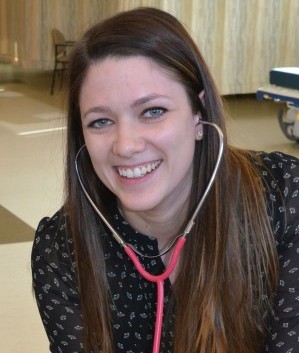 Something clicked for Robyn Buna when she was taking science classes in high school. Back then, Buna, who grew up in Kelowna, got a sense that health care was in her future.
"I loved courses that taught about the human body; physiology, anatomy. I just love the sciences," she recalls. "And because I'm a people person, I wasn't as interested in research, so going into medicine seemed the best approach as I would be able to interact with people and do something I enjoyed."
She completed her undergrad in biomedical physiology at Simon Fraser University (SFU), and while at SFU, made the decision to pursue a career as a doctor. She began her studies in medicine in September 2011, returning to Kelowna in the Southern Medical Program.
This July, Buna will begin her residency program at the Alberta Children's Hospital in Calgary, where she will focus on pediatric care. She says not only is she looking forward to the variety of pediatrics, but she's also looking forward to working with young patients.
"You deal with pretty much everything with pediatric care; there is a variety of presentations, and a good variety of cases," says Buna. "I have spent time working with and coaching kids and I've always enjoyed working with them. They are entertaining, funny, and honest."
You certainly have to know your stuff, and Buna says pediatrics can stretch from fevers, to broken bones, to internal medicine where a patient may present with a tummy pain describing it only as 'something that doesn't feel right.'
"Part of the challenge of working with kids is that you're interpreting their body language, their words, their symptoms," she says. "They are giving you clues and you're working to turn it into a medical answer."
She also notes that as a pediatrician, you work with the entire family. That's where people skills come in handy as you may have two parents and the child all giving you signs and symptoms, while you look for answers.
"While you have to work with, and relate directly to the young patient, you also have to discuss everything with the family," she says. "A child might be scared or in pain, and not want to cooperate. A parent on the other hand may be scared or worried, but will also be looking for definite answers. While I love that, it is certainly part of the challenge of working with kids."
---
Jim Huang, Southern Medical Program Graduate 2015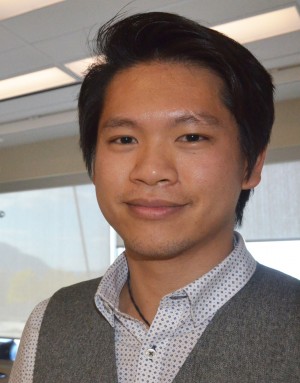 Jim Huang says he came to the world of medicine late, acknowledging that at 30, he is a few years older than most of his SMP cohorts.
But he hasn't been idle; Huang has an undergraduate honours degree in Molecular Biology and Biochemistry from Simon Fraser University, and earned a Master's at UBC in Medical Genetics with the Faculty of Medicine. To add to that, he has just completed his medical degree with UBC's Southern Medicine Program.
And in July, Huang will begin his rural family medicine residency at Kelowna General Hospital, with eventual goals of being a family practitioner. While he enjoyed the researched-based medical genetics program at UBC, he also recognized that he likes interacting with, and helping, people. He wants to practice family medicine in a rural community.
"In family practice you learn pretty quickly how to handle a lot of different situations," he says. "You have to be able to help everybody who comes in through your door."
Huang decided a few years ago that family medicine would be his path, mostly because he likes the scope of family medicine. But he also confesses a love of the surgical skills he has acquired while participating in the clinical rotations at Vernon Jubilee Hospital. Huang dreams of having the best of both worlds. Ideally, he would be a partner in a family medicine clinic, but also have the opportunity for emergency or surgical shifts at the hospital. In a rural community, that would be the life of a family practitioner.
"I want to be a part of someone's life; not just seeing them once and then never again, like in some specialties," he says. "I want to help them through their life journey, as they age, as they have children, and their children have children. The family doctor-patient relationship can become a lifelong partnership, through good times and bad."
He likes looking for solutions, asking questions, providing care. To be able to guide a patient, provide medical care and advice throughout their lives is his dream of becoming a successful doctor.
"To become a part of someone's life, be there for them as their practitioner, and accompany them as they age as well as providing care to a multi-generation family would be fantastic," he says. "To be a family doctor like that would not be a role or a career. It would be a privilege and I would consider it an honour."
---
Jordan Nostedt, Southern Medical Program Graduate 2015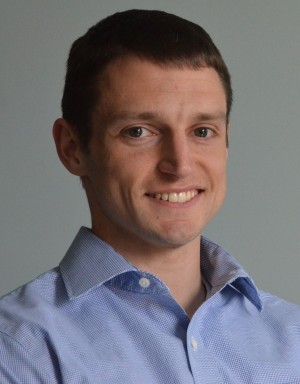 Jordan Nostedt is one of those lucky people who knew at a fairly young age what he wanted to when he grew up. A doctor. While he wasn't sure about what type of medicine, he earned his Bachelor of Science degree, majoring in biomedical physiology, at Simon Fraser University. Just months after graduation, he became one of the first medical students at UBC's Southern Medical Program.
Now, four years later, and after spending his clinical rotation at Royal Inland Hospital in Kamloops, Nostedt will begin his general surgery residency program at the University of Alberta in Edmonton.
"During my second year at SFU I realized that I really enjoyed learning anatomy and physiology and medicine seemed like a natural progression for me," he says. "The general surgery residency is five years and I'll be learning the entire time. Surgery is always evolving, you're never done learning."
There is no 'ick factor' for Nostedt. Surgery is an exact science and any day of the week he might be repairing or removing bowels, livers, spleens, gall bladders or an appendix. Being able to operate on a person and begin their road to recovery is what drives this young doctor and he wears his passion on his sleeve, showing his excitement for his new career.
"I absolutely love being in the OR and managing surgical patients on the floor," he says. "It really is exciting. I feel comfortable there and I know I have chosen the right career path."
Nostedt will spend the next five years completing his surgical residency in Alberta. He's not sure yet if he will stay as a clinical surgeon, or perhaps turn to the world of academics and train future doctors. He just knows that for now, he has found his spot and he's happy to begin his surgical career.
"Every day when I wake up, I know this is what I want to do. It's challenging, it's a lot of fun, and it's very rewarding," he says. "While I'm a little bit nervous, I'm also very excited. My approach is to go in there with my eyes wide open, learn as much as I can, find out what I like to do and run with it. The ultimate reward will be to one day make a difference in someone's life."