The Southern Medical Program held its graduation celebration for the inaugural class on May 2, 2015 at the Four Points by Sheraton in Kelowna. Over 100 SMP faculty, staff, students, and special guests were joined by family and friends to celebrate the momentous occasion.
Each student was presented with a print of an original piece of artwork created by Leanne Spanza, local Lake Country artist, in recognition of the inaugural class' graduation. A special note of thanks to Dr. Gail Plecash for her contribution, which enabled the purchase of this unique grad gift. The SMP faculty and staff were also presented with an original piece of artwork from Kathi Bond, SMP graduate Alex Bond's mother. Best of luck to the students as they enter the next phase of their medical training in BC and across the country.
Excerpts from speech by SMP Valedictorian, Angus Cherry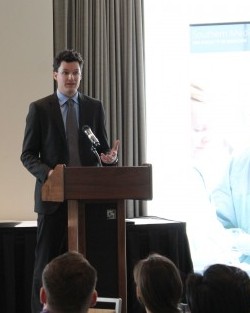 Here we are, we've made it to the end of this part in our training. We've spent four great and challenging years in the Okanagan together, and it's a pleasure and an honour to speak to you during this special moment. 
Sending a graduating class of medical students out for the first time, is a crowning achievement for the SMP. We've shaped it as it has shaped us. Many people will look to us as representatives of the school in the years to come and I know that I am not alone in counting myself proud to be one of those representatives.
To be graduates of UBC medicine, we had to be determined and passionate in our efforts to become doctors. It's a process that involves a great deal of time with our role models already in the field.  In the Interior of BC, the experience and the passion of the physician teachers supported us in our academic endeavours and personally as well. I'll never forget my time in Kelowna.
I feel very lucky to have studied here. It's a beautiful place to live and an excellent place to study medicine, and I think many of us are looking forward to returning to the Interior of BC. How nice was it to be enjoying post call outdoor recreation in April!
To the friends and family that are here, and those that couldn't make it today, thank you for all your support. The graduates in this room are not the only ones that felt the stress of applications years ago. Sharing the joy of our training and the growing sense of responsibilities with you, carried us through some difficult schooling, and will carry us through the challenging and rewarding years ahead. Thank you for being here.
Much is going to be expected of us from today on, in our residencies, and in our practice. Looking back, I know we will be so glad to have shared this time together.
Looking forward, as we all pursue mastery of our specialties, I hope that we all can continue to find the ever-evolving reward and personal satisfaction that comes from caring for others. If no longer through the mastered details of our cuts with cold steel, and orders with borrowed pens, then the artfulness of a compassionate patient encounter. Thank you and good luck with your future endeavors.