Sarah Pankratz will never forget the ominous sight of six billowing columns of smoke rising from the hills surrounding her hometown of Williams Lake. It was July 2017, she was home barely a week from medical school and was looking forward to a quiet summer. She had spent the previous year as a third-year Southern Medical Program student training at Royal Inland Hospital in Kamloops.
Forget the quiet summer. The very next day, a provincial state of emergency was declared as wildfires raged across British Columbia.
Before medical school, she had worked four summers as an initial attack wildfire fighter for BC Wildfire Service. Jumping out of helicopters and tackling new fires in the remote wilderness was in her wheelhouse. She had also had worked and trained as a paramedic. Fighting fires is also somewhat of family business, as both Pankratz's father and brother have served as fire fighters in the Williams Lake area.
Answering the call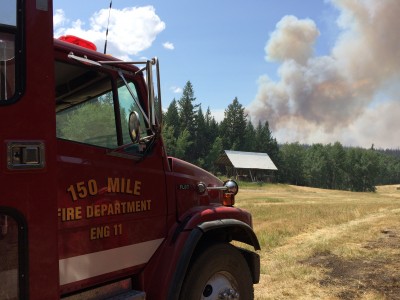 As the fires intensified in the region, a call for help came from the nearby 150 Mile House fire department. The small community needed to evacuate and all available resources were being recruited.
Pankratz couldn't just watch from the sidelines. She joined the fire department to help with wildfire containment and evacuation efforts. Dreams of her quiet summer disappeared into the thick smoke hovering over the region.
"The first night was basically chaos," Pankratz says. "Two fires merged into one and lots of people were trying to evacuate with their livestock and valuables."
At 11 p.m., an emergency call came in for an elderly man experiencing respiratory distress. All ambulances in the area were busy assisting with other calls, so Pankratz joined another firefighter and responded to the call. Together, they treated the patient before he was transported to Cariboo Memorial Hospital in Williams Lake.
"I attribute my ability to manage that patient to my experience at UBC," she says. "I'd seen that exact same patient in the emergency department many times before and it was really interesting to apply what I had learned."
Just days later, the entire  town of Williams Lake and the hospital were evacuated. Pankratz remembers how stressful it was for the community, including her family members, who had to leave on short notice.
Paw Patrol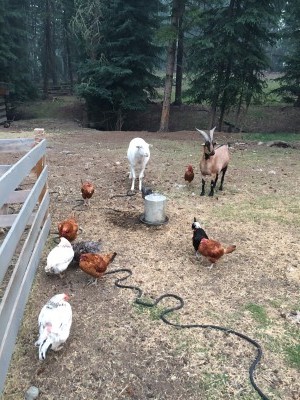 With the region's evacuation order in place, Pankratz worked sixteen-hour shifts as part of the 150 Mile House fire department patrolling the community looking for fire hot spots. She began to notice something disturbing. There was a growing number of animals abandoned in the rush to evacuate.
"People weren't anticipating leaving their homes and properties for that long," she says. "There were goats, rabbits, and chickens with little to no water or food. The need to help these animals was becoming increasingly significant."
Of the 500 plus properties in the area, Pankratz estimates 1,400 chickens, 1,000 rabbits and numerous goats, horses, cattle, cats, dogs and sheep needed help. The fire department designated one of their fire engines to assist and dubbed it 'Paw Patrol,' after the popular children's TV show.
Pankratz coordinated the supplies for the entire community, delivered bales of hay by fire engine and even took turns feeding rescued kittens by syringe. A total of three litters where rescued during the fire.
The fires continued to burn and even when the intense emergency over, her adrenaline-charged summer was unrelenting. With two weeks remaining of her supposed summer vacation, Pankratz was recruited to work as a helicopter base manager in Williams Lake for the Cariboo Fire District. As summer dwindled away, she was busy helping to coordinate machine and work resources for the continued wildfire fighting effort in the region.
Her final workday was a Sunday. The next day, she woke up as a fourth-year medical student ready to begin a general surgery rotation, coincidentally in Williams Lake. One of her first jobs, was to actually assist with a surgery for a member of the community she had provided first aid to just weeks earlier.
One of many hats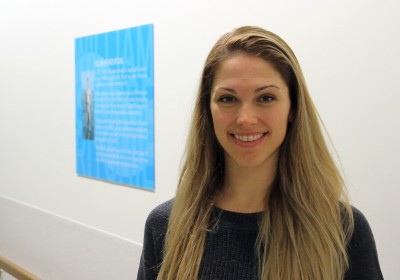 Throughout their training, medical students strive to embrace the CanMEDS competencies. Designed by the Royal College of Physicians and Surgeons of Canada, the guidelines encourage students to embrace the role of medical expert in addition to being a professional, communicator, collaborator, leader, health advocate and scholar.
It was these guiding principles that Pankratz continued to draw upon throughout the summer she'll never forget.
"I was constantly in a teaching role, learning from others, working in teams and being a medical expert," she says. "It's exciting when something happens, but you need to keep perspective. This is someone's emergency that you have the honour of responding to. You need to weigh your responsibility to the community heavily and do the best you can."
Pankratz continues her path as family medicine resident with the Coastal-North Vancouver site this summer. She's hoping to enjoy a bit more peace and quiet than last year.