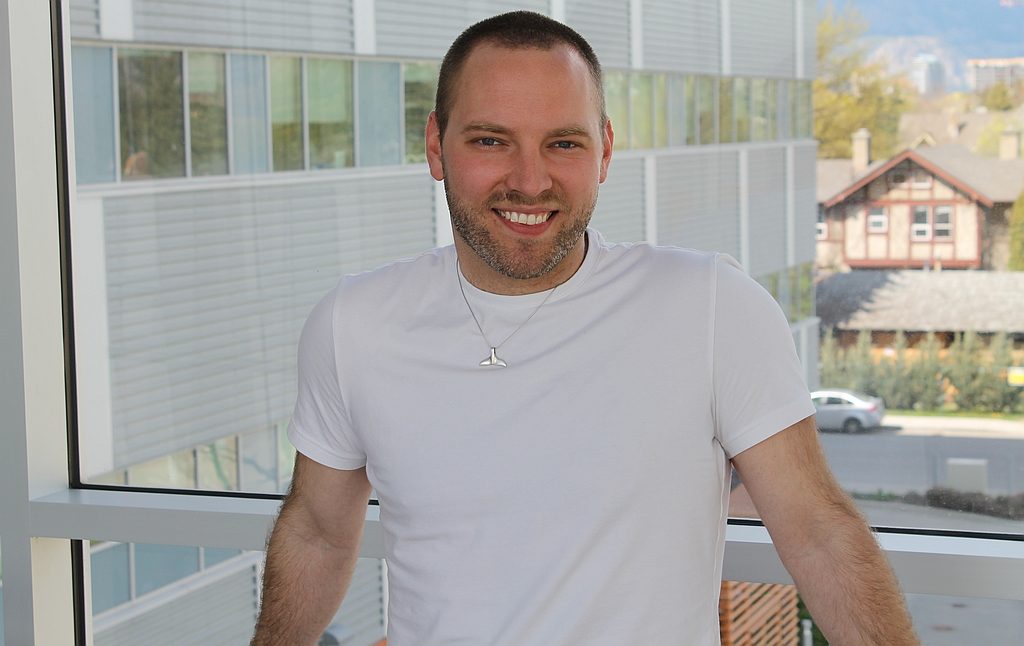 Alexander (Sandy) Wright, a newly graduated doctor from the Southern Medical Program (SMP), has seen his share of 'firsts' while attending UBC.
Wright was one of the first 32 students admitted as part of the SMP's inaugural class. They began their studies at UBC Okanagan in January 2012.
"Showing up in Kelowna as part of the first class—the faculty, staff and community embraced us whole-heartedly," says Wright. "It has been a real privilege to participate in the new program. The opportunities and experiences provided to us were unparalleled."
It was during his first year of medical school that Wright's passion and background in research led him to pursue enrolment with the Faculty of Medicine's combined MD/PhD program. The seven-year intensive program offers students the opportunity to combine their medical education with demanding scientific training.
Wright graduates in May as the first UBC medical student to complete their MD/PhD at one of the Faculty of Medicine's distributed medical programs.
For his PhD work, Wright teamed up with UBC Okanagan concussion researcher Professor Paul van Donkelaar to explore the effects of sports-related concussions on various aspects of brain physiology, including control of brain blood flow. Wright worked extensively with UBC Okanagan Heat Athletics and local junior athletic teams for data collection. Their work has helped shaped the latest international guidelines for concussion management.
Coincidentally, it was while studying concussions that Wright suffered a severe concussion while playing in a recreational hockey game in Kelowna. His post-concussion symptoms sidelined him from his research and studies for nearly seven months.
Ultimately, he views the experience of this injury as a pivotal learning experience for both his research and his future medical career.
"Going through such a complicated recovery process not only gave me new perspectives into post-concussion syndrome, but also a better understanding of mental health in general," says Wright. "My physical symptoms eventually settled, but the emotional symptoms took much longer to subside. Having this experience has genuinely helped me to better understand and communicate with my patients and contribute to research."
After nearly eight years in Kelowna, Dr. Wright now heads off to Saskatoon and the University of Saskatchewan for residency training in ophthalmology. He heads to the Land of the Living Skies with his wife and two young daughters for the next five years – parenthood was another first during his time at UBC.
"Ophthalmology is such a beautiful intersection between medicine and surgery," says Wright. "Amongst other things, the eye-based manifestations of systemic disease and nuances of the eye-brain axis provide great intellectual stimulation, while the procedures are delicate and precise. Above all, I look forward to the immense impact we can have on patients' quality of life. The discipline is the perfect blend of all facets of my personality and interests."
Similar to what drew him to the smaller class size at the SMP, Wright joins the Saskatchewan program that welcomes only one new ophthalmology resident each year.
"There will be no shortage of hands-on opportunities," says Wright. "Ultimately, there is no substitute for experience in learning how to be excellent at your craft."
As for his long-term plans, a return to Kelowna might be in the future.
"I like to set flag posts off in the distance at 10 to 20 year intervals and aim towards them," adds Wright. "A lot can change over the next five-to-seven years of training, but I would really value the opportunity to return to the Okanagan to practice and to contribute to medical education at the SMP."