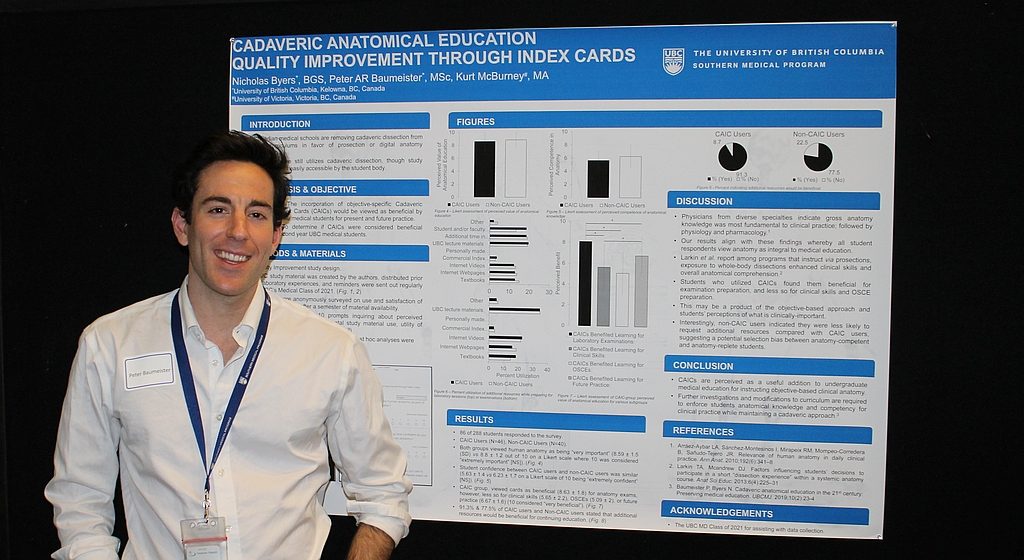 The 2019 UBC Okanagan Interdisciplinary Student Health Conference was held earlier this year at the Clinical Academic Campus at Kelowna General Hospital.
Students from the Southern Medical Program, UBC Okanagan, and BC Cancer-Kelowna presented their research and public health experiences to local healthcare professionals and the community. Thanks to all of our participants and congratulations to this year's conference honourees.
Clinical Care
Top Honours: Dakota Peacock, Southern Medical Program; Title: Needs Assessment of Rural Telemedicine Care for Parkinson Disease in British Columbia
Honourable Mention: Hannah Dreksler, Southern Medical Program; Title: What is the Cost of a "Cast Holiday" in Treating Children with Early Onset Scoliosis (EOS) with Elongation Derotation Flexion (EDF, "Mehta") Casting?
Science
Top Honours: Peter Baumeister, Southern Medical Program; Title: Cadaveric Anatomical Education – Quality Improvement through Index Card
Honourable Mention: Ellen Gates, UBCO Biochemistry and Molecular Biology; Title: Signaling Between Gut Microbiota and Immune Cells of the Brain  
Public Health
Top Honours: Sarah Daniels, UBCO Department of Psychology; Clinical Psychology; Title: Prenatal Cannabis Use: Therapeutic Use and Pharmacological Substitution in a Prenatal Sample
Honourable Mention: Bhavan Panghali, Southern Medical Program; Title: A Qualitative Study of the Efficacy of Implementing Health Record Cards for Nepalese Children at Sonrisa Orphanage
Psychology
Top Honours: Stefanie Ciszewski, UBCO Department of Psychology; Clinical Psychology; Title: Small-Change Behavioural Intervention Approaches to Weight Loss: A Systematic Review
Honourable Mention: Kasia Niewinski, UBCO Arts, Psychology; Title: The Role of Psychopathic Traits in the Perception of Pain in Others
Honourable Mention: Victoria Scotney, UBCO Arts, Psychology; Title: Gender Bias in the Perception and Treatment of Pain