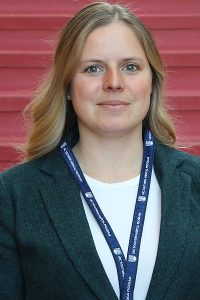 The Southern Medial Program is pleased to announce the addition of Dr. Christine Voss to the Chronic Disease Prevention Program (CDPP). Dr. Voss is an accomplished research scientist and Clinical Assistant Professor with the UBC Department of Pediatrics.
Dr. Voss earned a BSc in Biochemistry from Royal Holloway, University of London and a MSc in Sports Sciences from Brunel University, UK. She then completed her PhD in Sport and Exercise Science from the University of Essex, UK where she examined the association between cardiovascular health and modifiable health behaviours in children. Dr. Voss then trained as a postdoctoral research fellow at the Centre for Hip Health & Mobility at UBC between 2011-2015, before joining the Children's Heart Centre at BC Children's Hospital and UBC's Department of Pediatrics as a Research Associate in 2015. Her research is focused on physical activity and health in children and youth in both clinical and community-based settings, and in particular the use of state-of-the-art technologies to objectively assess complex physical activity behaviours.
Dr. Voss will work closely with Dr. Kathleen Martin Ginis and the growing research team. She will collaborate with faculty and key research stakeholders from UBC Okanagan, Interior Health, and other community-based health organizations.