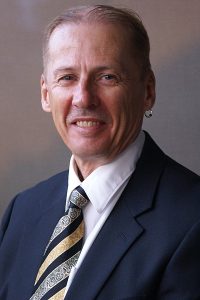 Dr. Neil Hanon has been appointed Clerkship Site Director, Kelowna General Hospital (KGH) for the Southern Medical Program (SMP). Dr. Hanon is the Department Head of Psychiatry at KGH and Clinical Assistant Professor with the UBC Department of Psychiatry.
Dr. Hanon completed his medical degree and residency with the University of Alberta. From the early beginnings of the SMP, Dr. Hanon led the development of the psychiatry rotation for third-year students at KGH. Since 2008, he has served as a Discipline Specific Site Leader for the SMP and an excellent preceptor for UBC medical students and residents. Dr. Hanon was recently recognized for his contributions to UBC with the Faculty of Medicine's 2018 Clinical Faculty Award for Excellence in Clinical Teaching.
At this time, the SMP would also like to thank Dr. Vincent Arockiasamy for his dedication and contributions to the continued growth of the Kelowna Clerkship Program. Dr. Arockiasamy will continue his work with the Faculty of Medicine in his new provincial role as Director, Student Assessment.