The Southern Medical Program officially welcomed the SMP Class of 2023 to UBC Okanagan in early January. Meet first-year student Aashka Jani.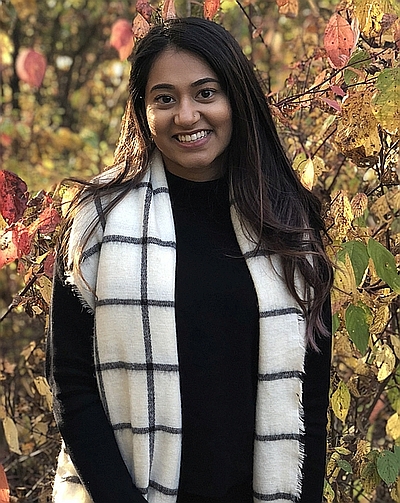 Name:  Aashka Jani
Hometown: Prince George, BC
Why did you choose a career in medicine?
I have been interested in the human body and science for as long as I can remember. It all honestly probably started with a doctor kit my parents gifted me when I was younger which fostered my interest in all things medicine. My undergraduate and volunteering experiences were formative in my desire to be in the health care field. However, it wasn't until I experienced the health care system from a patient perspective, through family members and myself, that I truly wanted to be a physician. Seeing the differences in care depending on where you are in the world or even where you are in one country, harnessed my interests in being able to provide equitable care and remove barriers to access.
What do you like to do in your spare time?
One of my favorite things to do in my spare time is have game nights with family and friends. In addition, I love reading books and having a good Netflix binge.
If you could travel anywhere, where would you go and why?
There are so many places I want to travel! I've been flying around the world since I was a little over a year old so it's something that I want to continue doing. I love experiencing new cultures and taking in new sights. Overall though, my favorite part of traveling is being with my family or friends and getting to explore new places with them. Next on my list right now are Southeast Asia and Iceland.
What are you most looking forward to about training with the Southern Medical Program?
I am excited for the smaller class size at SMP! Having gone to a smaller university, I really valued the close connections I was able to form with peers and mentors, and I look forward to doing the same in Kelowna.