The Southern Medical Program officially welcomed the SMP Class of 2023 to UBC Okanagan in early January. Meet first-year student Brian Hayes.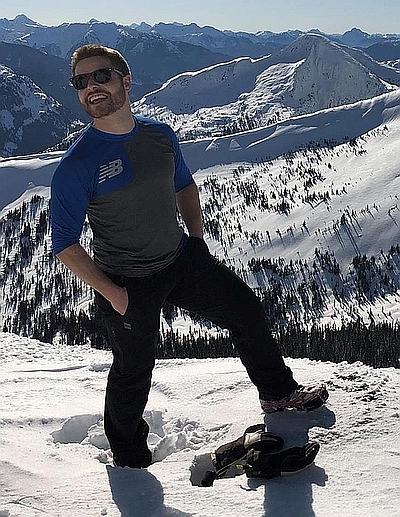 Name:  Brian Hayes
Hometown: Calgary, Alberta
Why did you choose a career in medicine?
I was originally drawn to medicine through a combination of fascination with the work of MSF and the repeated treatment I received from sports-related injuries growing up. As I progressed through my undergraduate degree in Kinesiology, I developed a fascination with the function/dysfunction of the human body. This was further complimented through my various jobs as a server, personal trainer, first aid instructor and tutor, where I consistently enjoyed helping/supporting individuals. Through my time working outside of school, and my additional pursuit of an MSc, life has consistently steered me back towards medicine.
What do you like to do in your spare time?
My primary pursuits outside of academics are music and backcountry sports. I have sang with various a cappella groups in Vancouver for the past seven years and I play guitar and piano, so I'm looking forward to finding a new musical community in Kelowna! In terms of backcountry sports, I spend as much time hiking, backpacking and camping as I can in the summers and have snowboarded for over 10 years. More recently, I have started mountaineering and would love to get into splitboarding.
If you could travel anywhere, where would you go and why?
I would travel either to the Himalayas or to Patagonia. I underwent ACL construction four years ago, recovering enough to complete my first big trek in the Italian Dolomites three years later. I absolutely loved the combination of physical challenge, amazing views and unique adventures that come with mountain trekking, and with my history of knee injuries I want to pursue more treks in the near future while my body still allows!
What are you most looking forward to about training with the Southern Medical Program?
For me, it's a combination of small class sizes with more direct faculty relations and the draw of being away from larger cities like Vancouver. I'm looking forward to learning in major treatment centers, such as in Kelowna itself, and in environments that are smaller and more fluid in their structure and physician roles.