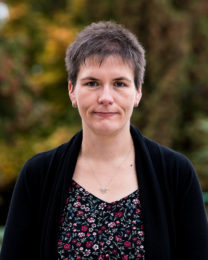 Dr. Cara Wall has been appointed the new Director, Faculty Development for the Southern Medical Program (SMP). Dr. Wall is a hospitalist based at Kelowna General Hospital and Clinical Instructor with the UBC Department of Family Practice.
Dr. Wall completed her medical degree and residency training at the University of Saskatchewan. Since the early beginnings of the SMP, Dr. Wall has served as a preceptor for clinical skills, case-based learning, and clerkship rotations at KGH. In addition, she has led academic half-days and taught family practice residents in core hospital medicine rotations and diabetes clinic electives.
As Director, Faculty Development, Dr. Wall will help foster a culture of teaching excellence for the SMP and lead all forms of faculty development programs throughout the Interior Health region.  She will also determine appropriate support, resources, and programming to facilitate professional growth for SMP clinical faculty.
The SMP would also like to thank Dr. Robyn Hutchings for her outstanding work in leading the faculty development portfolio for the past two years. The program is grateful to have her continued service to the SMP as our Assistant Dean, Student Affairs.