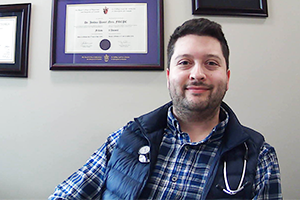 Name: Dr. Joshua Nero, SMP 2015
Tell us about your current practice:
I currently have a busy gastroenterology practice in Kamloops, BC. I see a wide range of patients, ranging from those with chronic liver disease and cirrhosis to those with inflammatory bowel disease or functional GI disorders. I also respond to emergencies in the hospital on call including acute GI bleeds and removal of foreign bodies.
Fondest memory with the SMP:
Singing and doing a skit in our Halloween costumes at the Kelowna Medical Society party, and then seeing my family medicine preceptor play in a rock band right after us.
Best words of advice you received during your training:
If you always put the patient first, it is difficult to be in the wrong.