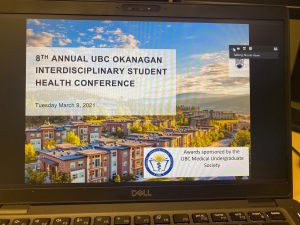 An audience of over 120 students, adjudicators, volunteers, and participants attended the virtual 2021 UBC Okanagan Interdisciplinary Student Health Conference on March 9, 2021.
The event was kicked off by an inspiring keynote presentation from Dr. Daryl Wile, Centre for Chronic Disease Prevention and Management followed by a full evening of engaging posters and presentations from UBC Okanagan students.
Congratulations to all student presenters, and to the following students on their award-winning posters:
Category: Biomedicine, Drugs and Computational Research
Alexis Genereaux-Guidi, Applied Science
Development of an algorithm to process device-based physical activity and location data to characterize physical activity behaviours
Category: Child and Public Heatlh
Aashka Jani and Larissa Steidle, Medicine
Patient Factors that Influence Breast and Cervical Cancer Screening Participation 
Category: Community Health
Rachel Shim, Science
Mediterranean Diet compliance in patients with ulcerative colitis
Category: Rural, Clinical, and Emergency Care
Carley Paterson, Arts and Social Sciences
Being there: Understanding the support systems of adults 50 years and older with mental health concerns who live in a rural community in BC
Category: Student and Social Health
Rebekah Underhill, Health and Social Development; Lucas Standing, Arts and Social Sciences; Thomas Pool, Health and Social Development
Okanagan Overdose Response Project
Category: Virtual and Digital Health
Sarah Park, Medicine
TeleRehabilitation with Aims to Improve Lower extremity recovery post-stroke (TRAIL): Study Protocol
For full posters details, view the 2021 conference program.