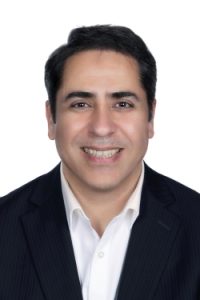 Dr. Kamran Golmohammadi has been appointed the Foundations of Scholarship (FoS) and Flexible and Enhanced Learning (FLEX) Site Director for the Southern Medical Program (SMP), effective January 1, 2022. Dr. Golmohammadi is a public health & preventive medicine specialist and a Clinical Associate Professor with the UBC Faculty of Medicine School of Population and Public Health.
Dr. Golmohammadi completed his medical degree at Bandar Abbas School of Medicine and residency training in Public Health and Preventive Medicine at the University of Alberta. Additionally, he completed the UBC Sauder School of Business Physician Leadership Program. Dr. Golmohammadi currently works as a Medical Officer with the BC First Nations Authority in Kelowna. Prior to this, he worked as a Medical Officer with Interior Health (IH) for six years. Dr. Golmohammadi has served as the Training Site Director for preventive medicine for IH, Chair of the Academic Advisory Committee for Public Health at IH, FLEX project supervisor for SMP, and a member of Faculty of Medicine Clinical Faculty Affairs Committee.
In his new role, Dr. Golmohammadi will provide leadership and organizational responsibilities for the MEDD 419, MEDD 429, and MEDD 449 courses at the SMP. He will work in collaboration with the SMP leadership team and Directors from the Vancouver-Fraser Medical Program, Island Medical Program, and Northern Medical Program.