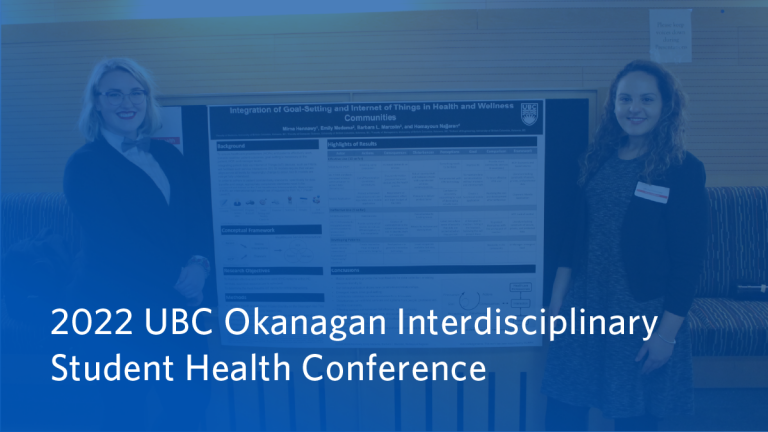 The UBC Okanagan Interdisciplinary Student Health Conference (IDHC) brings together students from across UBC Okanagan to showcase their health science research and public health experiences at an engaging presentation event.
At our 2022 conference, an astounding 69 students presented 55 different projects from Science, Medicine, Interdisciplinary Graduate Studies, Heath and Social Development, Arts and Social Sciences, and Applied Sciences.
Congratulations to our top presenters and those selected for the three ten- minute presentation spots for this year's conference.
10 Minute Presentations
Acute Intermittent Hypoxia Improves Orthostatic Tolerance in Chronic but not Acute Spinal Cord Injured Rats
Liisa Wainman (Medicine)
Towards an optimal integration of family physicians into the post-cancer treatment pathway in BC's interior: A mixed methods study
Brian Hayes (Medicine)
The Co-development of Indigenous Community-led Culturally Safe Telediabetes/Obesity Care in BC's Interior
Brookelyn Koersen (Science)
2022 top Presentation Awards
Biomedicine and Pharmaceuticals
Creation of mucus factories using colon organoids to combat intestinal diseases
Spencer Ursel, Science; Ojogbane Amedu, Applied Science
Child and Public Health
Assessing the Impact of COVID-19 Precautions on Classroom Communication for Adolescents with Hearing Loss: A Qualitative Study
Lindsay Booth, Medicine
Clinical and Emergency Care
ERCP Under General Anesthesia Compared to Conscious Sedation (EUGACCS) Study
Grant Greaves, Medicine
Community Health
The Toxic Drug Response Project
David Byres, Arts and Social Sciences; Victoria Bester, Health and Social Development
Health Policy and Advocacy
Planning and piloting peer-led food skills workshops for UBCO students
Morgan Game, Arts and Social Sciences
Rural and Remote Health
Being there: A qualitative exploration of support systems for rural adults 50 years and older with mental health concerns
Carley Paterson, Arts and Social Sciences
Student and Social Health
Understanding early semester distress in undergraduate students: The impact of work and predictability of work schedule
Jaime-Lyn MacLeod, Arts and Social Sciences; Eric Ferguson, Arts and Social Sciences
Virtual and Digital Health
Mobile App-Delivered Motivational Interviewing for Individuals on an Eating Disorder Clinic Waitlist: Pilot and Feasibility Study
Amané Halicki-Asakawa, Arts and Social Sciences