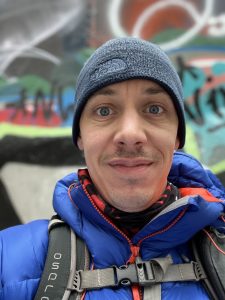 Dr. Neil Long has been appointed the new Transition into Postgraduate Education and Practice (TIPP) Lead for the Southern Medical Program (SMP). Dr. Long is an emergency physician based at Kelowna General Hospital (KGH) and a Clinical Instructor with the UBC Department of Emergency Medicine. 
Dr. Long completed his medical degree at the University of Nottingham in the UK followed by residency training split between Christchurch trauma hospital, New Zealand and many Australian sites, including pediatrics and toxicology in Perth, and trauma and simulation in Melbourne. Prior to joining the staff at KGH, he worked as an emergency physician in Vernon, Burnaby, and Melbourne, Australia. Dr. Long is an Airway Interventions and Management in Emergencies Instructor, Flow Research Collective Peak Performance Coach, and Medical Editor for the Life in the Fast Lane website. As a Clinical Instructor, Dr. Long teaches medical students and residents including lectures, ultrasound bedside teaching, and simulation training.
As the TIPP Lead, Dr. Long will facilitate the MEDD 448 course for SMP students and faculty. He will work closely with Year 4 Course Directors and Site Leads in the Vancouver-Fraser Medical Program (VFMP), the Island Medical Program (IMP), and the Northern Medical Program (NMP) and support faculty recruitment for small group teaching.
The SMP would like to extend its sincere appreciation to Dr. Graeme McCauley for his contributions to the TIPP program. Dr. McCauley is a tremendous advocate for the SMP and highly regarded as an exceptional educator and mentor for students and residents training at KGH.