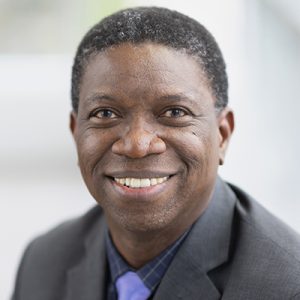 Dr. Olusegun (Segun) Oyedele has been appointed the new Assistant Dean for the Southern Medical Program, effective July 15, 2023. Dr. Oyedele is an Associate Professor of Teaching with the Department of Cellular and Physiological Sciences, and current Site Lead for the Foundations of Medical Practice (MEDD) and Course Co-Lead for MEDD 412. Dr. Oyedele has been the lead Anatomy Instructor for the SMP since the program first launched.
Dr. Oyedele completed his medical education in Nigeria in 1993 and worked in General Practice, before earning his PhD in Developmental Biology at South Africa's Witwatersrand University. He also served as a Senior Lecturer in anatomy and health sciences education at Witwatersrand University. Dr. Oyedele relocated with his family to Canada in 2011 and led foundational sciences education at SMP. Over the past 12 years, Dr. Oyedele helped to implement the renewed MD Undergraduate curriculum and has made tremendous contributions to the Faculty of Medicine at both regional and provincial levels. His research interests focus on medical education, particularly small-group learning pedagogies and how case-based learning equips medical students for clinical decision-making during clinical training and beyond. In 2017, Dr. Oyedele was honoured with the Canadian Association for Medical Education (CAME) Certificate of Merit award and was a recipient of the UBC Killam Teaching award in 2021.
As Assistant Dean, Dr. Oyedele will work collaboratively with the Regional Associate Dean, Interior, Assistant Deans from the Faculty of Medicine's distributed education sites, and SMP clinical faculty leadership and staff to ensure the sustainable delivery of undergraduate medical education in the Interior Health region.