The Southern Medical Program welcomes back new and returning students for the new school year. Learn more about some of our students and their path to studying medicine at UBC in the Interior Health region.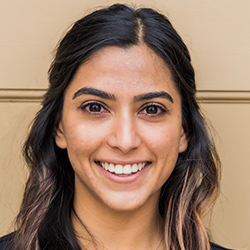 Aneesha Thouli, Year 4
Hometown: Kelowna
What inspired you to pursue your medicine?
Medicine was always interesting to me. The human body is incredible, and I wanted my career to help people in a meaningful way. I feel extremely grateful to play such an important part in a person's life.
Why did you choose UBC?
You can't go wrong with BC, Kelowna especially. Plus, it's super cool to train in the same hospital I was born in!
If you could travel anywhere in B.C. where would you go and why?
I would love to go to Haida Gwaii and explore the nature there. Otherwise, Tofino to go surfing for sure!
---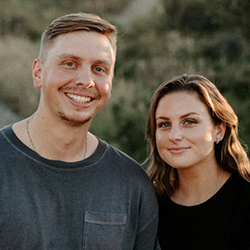 Nicholas Reitsma, Year 3
Hometown: Kelowna
What inspired you to pursue your medicine?
Like many high school students, I grappled with choosing a suitable career path and exploring feasible options. Growing up, my parents emphasized the importance of giving back, making service-oriented work appealing. I also sought intellectual stimulation in my profession. While I didn't have immediate family members in medicine, speaking to family friends in the field interested me. The balance of learning, service, and meaningful interactions with others drew me towards pursuing a career in medicine and I am so grateful I did.
Why did you choose UBC?
After only living in Kelowna for three years and graduating high school, I could not come to terms with leaving the beautiful mountains and lake. Fortunately, I also received an offer to play soccer for UBC Okanagan, making my decision to stay in Kelowna very easy. The opportunity to play the sport that I love while getting a world class education in one of the most beautiful places in the world was something I couldn't pass up.
If you could travel anywhere in B.C. where would you go and why? 
If I could travel anywhere, it would definitely be somewhere on the island like Nanaimo. I haven't spent any time exploring or relaxing on the island and I think that would be an awesome get away. Ideally, I would find a nice Airbnb on the water, with my fiancé and adorable puppy, and some good books. I would take full advantage of some time away from my everyday hustle and bustle and simply leave my phone on airplane mode as I spend a few days on my own schedule.
---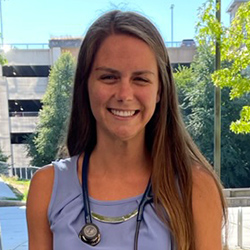 Kara Ruff, Year 2
Hometown: Campbell River
What inspired you to pursue your program?
I wanted a career where I could see the impact that I was having on others every day, and I find medicine fascinating. I also see healthcare changing in a positive manner in the way that it is delivered, and I want to be a part of and work toward that change.
Why did you choose UBC?
I chose the Southern Medical Program at UBC because it is a smaller site that allows me to connect better with my preceptors and peers, and I really enjoy the outdoorsy living that Kelowna has to offer!
If you could travel anywhere in B.C. where would you go and why?
I want to spend more time hiking, skiing, and exploring the Kootenay Mountain Region. This area has such quaint small towns and beautiful scenery, and I haven't explored it yet as I grew up on the Island so mostly stayed on the Island.