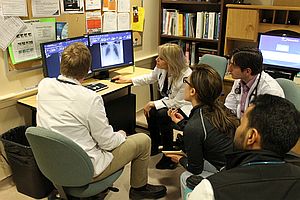 The UBC Faculty of Medicine is implementing a province-wide Teaching Tracking and Payment System (TTPS) for clinical faculty. TTPS will document teaching activity and standardize the payment process across the distributed MD Undergraduate Program.
For Southern Medical Program (SMP) clinical faculty, we would like to highlight a few key considerations regarding the new TTPS:
Most eligible payments related to the July to September 2016 fiscal period will be processed through the new TTPS.
As we transition to the new TTP system, some payments may continue to be processed through the existing payment system. As such, you could potentially receive two separate payments and statements if both the TTPS and the existing system are used to process your payments.
Your current method of receiving payment (e.g. direct deposit) will remain the same regardless of which payment system is used.
The key benefits of TTPS for clinical faculty members include:
A "one-stop-shop" for clinical faculty teaching and payment information, which is stored in a secure, electronic repository. It will no longer be necessary to submit payment information multiple times across regions or departments.
Teaching contributions in TTPS can be reviewed easily online to identify and report any discrepancies.
Detailed TTPS statements are generated quarterly and can serve as official teaching records for reappointment, promotion and recognition purposes.
Accessing TTPS statements requires a Campus-Wide Login (CWL), a single log-in process that provides access to UBC's online systems and library. To set-up your CWL account:
Locate your UBC ID and PIN on your Clinical Faculty Appointment (CFA) welcome letter from your department head. Visit the CWL sign-up webpage (https://www.cwl.ubc.ca/SignUp) to set-up your account.
If you have forgotten your CWL username and/or password, you can request the information at the CWL myAccount webpage (https://www.myaccount.ubc.ca/myAccount/).
If you are unable to locate your UBC ID and PIN or CWL log-in information, please contact Donna Russo, Southern Medical Program, Faculty Coordinator at donna.russo@ubc.ca or 250-807-9189 for assistance.
For more information, see the TTPS Quick Guide for Clinical Faculty  http://med-fom-faculty.sites.olt.ubc.ca/files/2014/03/TTPS-Quick-Guide-for-Clinical-Faculty.pdf.
We would like to thank you for your patience as we make the transition to TTPS for all SMP teachers moving forward. We would also like to thank you for your time and commitment in supporting medical education opportunities for our students.